We, at Fermes Ali Sfar, are the producers of Tesoro del Rio, a brand dedicated to providing its customers with Table olives, and extra virgin olive oil of the finest quality. The Tesoro del Rio brand takes its name from "Oued El Kenz" river whose waters flow through our farms nestled in the foothills of the Zaghouan mountains in northeastern Tunisia.
Historically, Zaghouan was an ancient Roman stronghold revered for its source of pure, untouched water. Later, Andalusians learned to harness the power of this source to irrigate their olive groves, and enhance the quality of their harvest.Tesoro del Rio Table olives and extra virgin olive oils gain their superior quality, in part, from the ancient Andalusian methods of cultivation and extraction, as well as Tunisia's strong commitment to organic farming.
As much as 95% of Tunisia's olive groves are organic, we, at Fermes Ali Sfar, have exceeded that standard. Our 100% organic olives are still pressed with traditional millstones that predate modern machinery. Tesoro del Rio products are rich in heritage as they are in taste, and their superior quality is a blend of New Age organic standards, and ancient wisdom unequaled by any other brand.
Organic Par Excellence
Our selection of products
Organic olive oil
Organic Olives
Organic par Excellence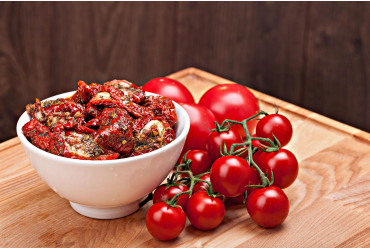 Post by:

MohamedGrine
May 9, 2017
12508 Viewed
6 branched of thym, 3 clove garlic and 75cl of oil to be marinated during 3 weeks in a gla
read more